The most Professional and Courteous RMR Rocky Mountain Rafts Dealer in North America
Rocky Mountain Rafts Dealer. RMR is a Whitewater Raft Manufacturer. The Boat People Inflatable Kayak and Raft Specialists is a RMR Dealer and…
Specializing in Inflatable Kayaks and Rafts – Since 1982.
Also we are AIRE Rafts and Inflatable Kayaks Authorized Dealer Since 1995 and AIRE's first Authorized Dealer in California.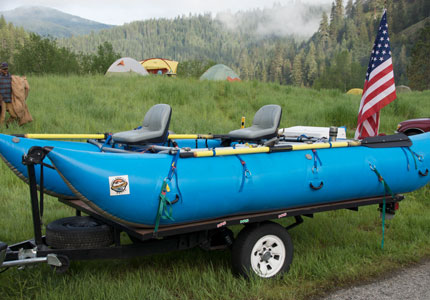 We are able to identify the differences in inflatable manufacturers and in their models to best suit your boating usage.
Rocky Mountain Rafts, or RMR Rafts as they are also known, is a producer of commercial grade welded pvc river boats. They currently make four sizes of self bailing whitewater rafts – 12′, 13′, 14′, and 16′, and two sizes of cataraft tubes – 14′ and 16′.  RMR is one of only two importers whose pvc boats are welded rather than glued.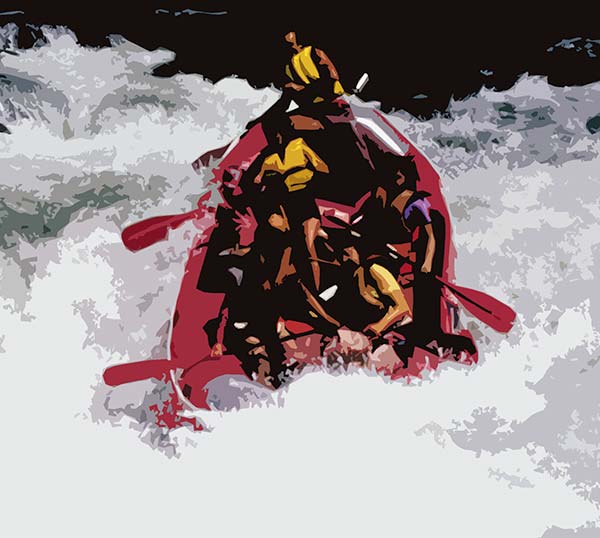 With pretty much every phone call regarding the Rocky Mountain brand, we are asked what we think of the quality. The reason this question always comes up is that RMR is still somewhat new compared to the familiar names like AIRE, Sotar, Maravia, NRS, Achilles, Avon, Star, Demaree, Hyside, and others, some of whom have been around many decades. The answer to the question is that the quality has been excellent, and if you include the first year when owner Denny Hugo was involved with his former partners in a Colorado retail store, Rocky Mountain Rafts RMR now has a few years under their belt. Even in this short time notable upgrades and improvements have been made. A couple of other pvc boat importer's whose factories continue to use glue rather than welders have felt the pinch too. Were the Rocky's not great boats and a killer value, this would to be the case.
As with all boats, there are always caveats, and on our main website at theboatpeople.com you will notice we always point any "bad" along with the good. We do not copy & paste manufacturer's promotional verbage as most whitewater sites do. To wit, three things you should know: the RM rafts, especially the larger sizes, are difficult to roll up. Except for the 12′ they are best transported by trailer or with a a full size SUV or pick-up. The cat tubes from Rocky Mountain roll up just fine however. The second thing is that the reason the rafts are hard to fold/roll is that they have extra material on the bottoms, and this also makes their boats relatively heavy per size compared to many brands. The difficulty in rolling a RMR to a compact size is not unique to them however. Sotars, Vanguards, Maravias, and some Star Inflatables are also tough to fold up and are also best moved around on a trailer.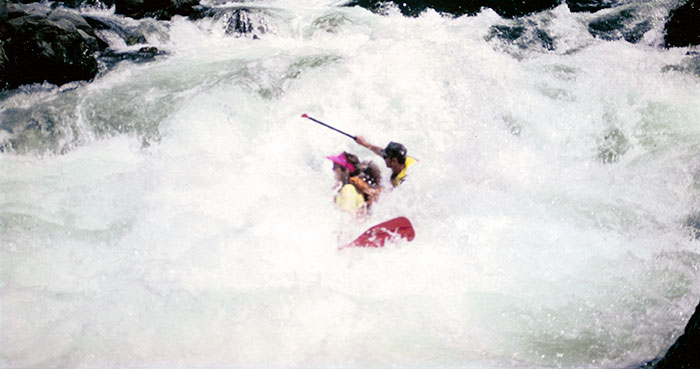 The third detail you should know is a non-issue, but we want to mention it anyway: Occasionally, Rocky Mountain Rafts and a few other brands – even American ones – will have a tiny leak on a bulkhead between two air chambers. This is not an external leak that results in air loss, but with some percentage of boats you will hear a tiny hiss between two adjacent air chambers if only one of them has air in it.
Denny from Rocky Mountain Rafts spends an inordinate amount of time flying back and forth to his factory in Asia , keeping a close eye on production and the final results. More than any other importer we know of in fact. Each time a new batch of boats is complete, he inspects them after they have been inflated for a while. This allows him to check each and every seam on every boat, to see if any are losing air, have weld defects, and to be aware of any blemishes should they occur before the boats are boxed and put on a cargo container. It is impossible, however, for the factory to inflate just one air chamber on each of several hundred rafts and cat tubes, then have the degree of total silence in that factory needed to detect a tiny hiss on a bulkhead. To do this they would have to repeat the process two more times for each raft, and Denny would be waiting forever just for boats to be blown up. All while every power tool, radio, air conditioner, or other noise source is turned off. Think about how likely this is in a large modern factory. Any importer or domestic boat maker who claims they inspect every bulkhead for leaks is flat out lying, because it simply isn't possible to do so. Glued bulkheads are easier to seal perfectly than welded ones, but the chances of them blowing out (creating a major leak between chambers) is much higher than with a welded bulkhead.
The warranty on all Rocky Mountain products is a solid five years, and if there were a substantial leak on a bulkhead, it is covered under that warranty. But the very few we have seen and heard of were only caused by a miniscule crinkle somewhere on the edge of the bulkhead seam tape, and the pinhole nature of them would not deflate chamber "B" if there were a puncture in chamber "A" and the leak were between the two. At least, not for a long time. More to the point, even if your Rocky Mountain raft was all one air chamber, chances of puncturing one with the type of reinforcing they use on the bottom is between zero and nil. And with a pair of RMR cataraft tubes, unlike every other brand, you get three air chambers per side instead of two. So again, the rare tiny exchange of air between two chambers is not a concern. We don't like spending this much space talking about it, but we have had one or two buyers worry over it far more than it was warranted so it is best to mention it now, not after you get your boat.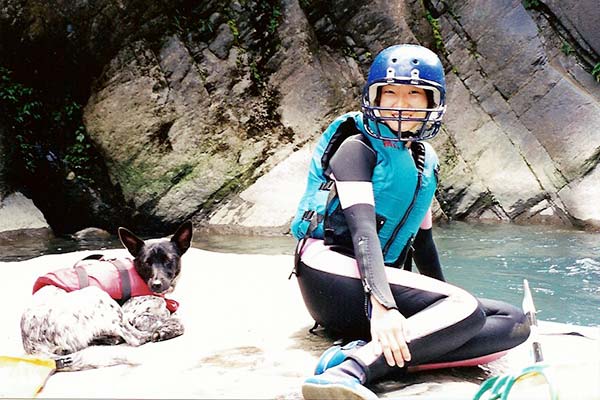 Text from our main website follows, but if you still have questions after reading our information please give us a ring at 925-820-BOAT. The 12′ raft and the two sizes of cataraft tubes are shipped by UPS or Fed-X ground. Other sizes have to go motor freight and are usually much cheaper to send to a commercial address. We are not set up to ship the RMR rafts outside the lower 48 unless you happen to be in Canada and have your own Fed-X account. The tough outfitter grade RMR's are the best value hands down no matter which of the rafts or cat tubes you are looking at. The new 2013 Rocky Mountain's have some small but important improvements, including a 1″ increase in the height of the floor mounting grommet strip on the rafts. This should decrease some wear areas a bit on the floor bottom, and make their already super stable rafts even more so. Additionally, there are more I-beams in the floors of the new rafts, for a smoother floor and a tighter fit against the side tubes. The welded area of each D-ring has increased this year on both the rafts and cat tubes, making for even higher pull strength. There is also more stitching over a wider area of the webbing that holds the metal D and the lift handles. The combo handle/D-ring patches have been angled too, further increasing their strength and the comfort when being used. Lastly, raft thwart attachments are made with thicker material on the 2013's, not that we saw any problems with the 2012's in this regard.
Although there are many imported pvc brands on the market, with the exception of AIRE's Tributary line and the RMR's most have traditionally been glued rather than welded, and glue leads to eventual seam failures. Even if the better glued brands hold up for ten to fifteen years, there will still come a day when you have to put a large quantity of pvc in a landfill. Rocky Mountain's have welded seams, floor I-beams, and bulkheads. D-rings & all attachments are also welded. In addition to the main seam overlaps, RMR also welds seam tape over both the interior and exterior side of each tube joint. This is something that a few pvc boat manufacturers don't seem to bother with, yet the lack of seam tape quite often means their inflatables have air retention that is less than stellar, especially as those boats age. Not so with the RMR's – the extra step of adding seam tape to the interior overlaps prevents air wicking along the exterior edges, and the outside seam tape makes it even more reliable.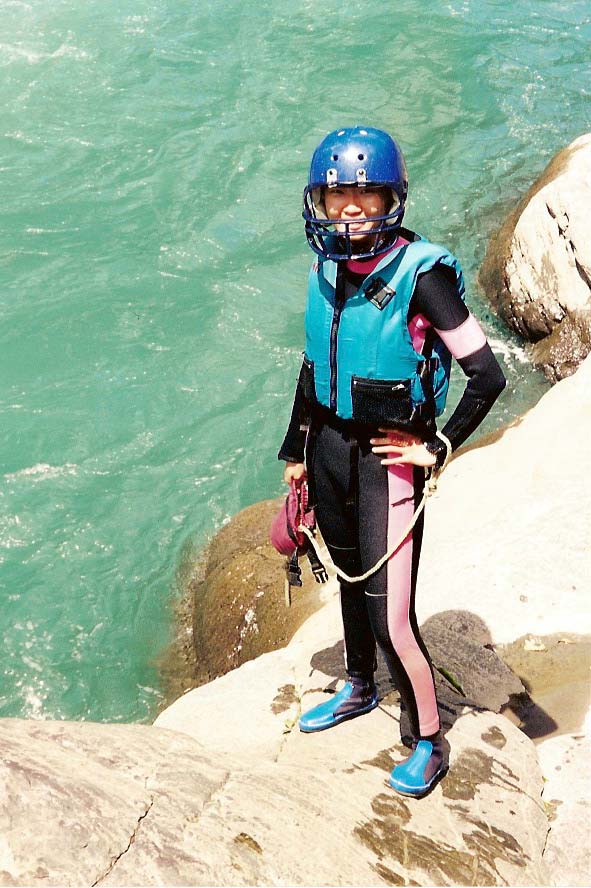 Individual pieces of the Rocky Mountain boats are not cut out one at a time with hand-traced cookie cutter patterns and scissors. Instead they are sliced out en masse with computer controlled band cutters like the AIRE's and Tributary's, and by foregoing much of the usual hand labor the cost to produce each raft or cat tube goes down. We are glad to see someone has taken the reigns to provide an extremely economical alternative to the many glued pvc inflatables out there. There are those folks who either cannot afford an AIRE Tributary boat, or who feel they would rather not have a bladderized inflatable for whatever reason. We would point out that AIRE's technology (they use the same manufacturing process for both the Tributary imports and the U.S.-made AIRE line) is well proven, and that the Tribs remain far easier to roll/fold up than the Rocky Mountain equivalents. On the other hand, the Tributary's run 25 to 30% more money than the R.M.R's. Making boating affordable gets more people on the river. Hopefully that's a good thing, unless you happen to be on Brown's Canyon on a July weekend….
RMR rafts have ten stainless D-rings outside and two more on the inside of the bow and stern for things like throwbag attachment. Cat tubes have four per side, or sixteen total per pair. If you need more we usually stock plenty. Two removable thwarts and six lift handles are standard on the rafts and all boats have frame chafers. The base fabric inside the 33 ounce pvc is a very strong 2000 denier polyester, and wrap-up layers on the underside of each raft toughen them up even more – though as mentioned at the end of the first paragraph those extra layers also make any raft that has them a bear to roll up. RMR uses the low profile Leafield C-7 valves throughout. The C-7 is a bit slower than the B-7 especially during deflation, but the problem with the B-7 is that it's high profile cap seems to bash paddle crew knuckles no matter where they are located. Such is the case with the 13′ and 14′ Tributary rafts.
One of the most surprising features of the RMR self bailing rafts is that they have a lace-in floor, not a permanently mounted one. Should something happen to your floor, your can unlace it if you have the time, and UPS it to RMR instead of trying to ship the whole boat on a truck line. Laced floors cost far more to produce, but they have the benefit of draining a raft quicker than glued ones can. It is quite unusual to find a laced floor on a raft of this low price. Warranties on all RMR boats are five years. Raft colors for 2013 are blue and red; on the cats gray and blue. The interiors (the thwarts and floor top) are gray.
Shipping to commercial (not residential) addresses on the 13, 14, and 16 Rocky Mountain Rafts and the RMR Cataraft tubes is free if you are in the lower 48. For now we are not offering free shipping on the 12′ RMR raft. If you want to know the lead time, or get a shipping quote for a residential address on a 13, 14′, or 16′ Rocky Mountain Rafts, or get the total rate for a 12′ raft, email us your zip code and we'll give you a close idea. Residential deliveries on the 13′, 14′, and 16′ rafts can be anywhere from $55 extra to $100 extra, and are problematic for several reasons. Motor freight carriers will not leave boxes if you are not at home for one thing. For another they usually charge extra for coming back a second time, or if you require a lift gate (normally boxed rafts can just slide off the back of the trucks without harm). Please see our main website for more info on this topic under the individual descriptions for the various sizes of rafts. Again, the cat tubes and 12′ raft can go via normal UPS or Fed-X truck – they do not require an 18-wheeler like the bigger rafts do.
⚠️ Warning: These products are made of PVC and can expose you to chemicals including Di(2-ethylhexyl)phthalate (DEHP) which are known to the State of California to cause cancer and birth defects or other reproductive harm. For more information go to www.P65Warnings.ca.gov