Rocky Mountain Rafts RMR 12 SB Whitewater Raft – TOUGH Outfitter Quality
Tough Outfitter Quality Five Person Raft. Rocky Mountain rafts and catarafts (a.k.a. RMR) are a new product for us, as well as being fairly new to the rafting industry. RMR 12 SB Whitewater Rafts is a good value river raft. Although there are many imported pvc brands on the market, with the exception of AIRE's Tributary line most have traditionally been glued rather than welded, and glue leads to eventual seam failures. Even if the better glued brands hold up for ten to fifteen years, there will still come a day when you have to put a large quantity of pvc in a landfill. Rocky Mountain whitewater rafts now become the second brand with welded seams, floor I-beams, D-rings, and bulkheads. In addition to the main seam overlaps, RMR also welds seam tape over both the interior and exterior side of each tube joint. This is something that a few pvc boat manufacturers don't seem to bother with, yet the lack of seam tape quite often means their inflatables have air retention that is less than stellar, especially as those boats age. Not so with RMR whitewater rafts – the extra step of adding seam tape to the interior prevents air wicking along the exterior edges, and the outside seam tape makes it even more reliable.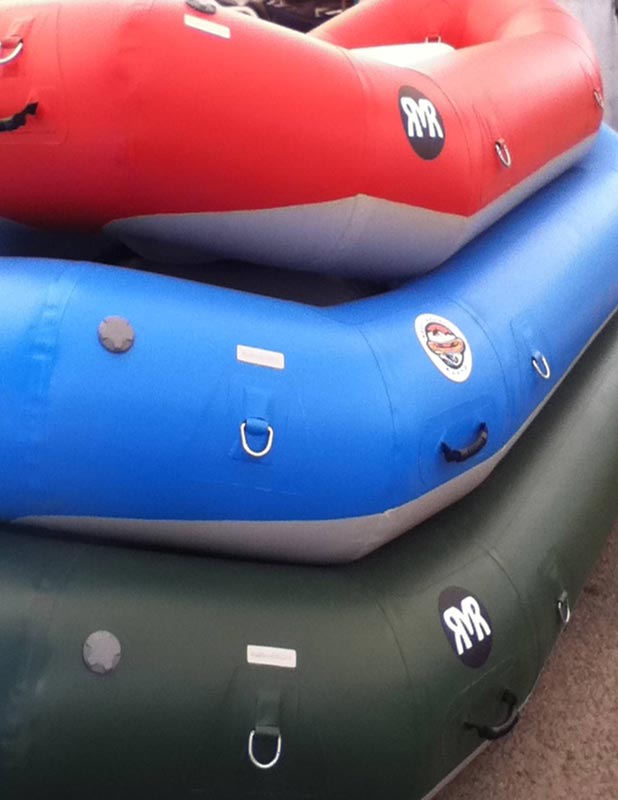 Rocky Mountain Rafts RMR 12 SB Whitewater Raft
Rocky Mountain Rafts RMR 12 SB Whitewater Raft Manufacturing
Individual pieces of the Rocky Mountain boats are not cut out one at a time with hand-traced cookie cutter patterns and scissors. Instead they are sliced out en masse with computer controlled band cutters like the AIRE's and Tributary's, and by foregoing much of the usual hand labor the cost to produce each raft or cat tube goes down. We are glad to see someone has taken the reigns to provide an extremely economical alternative to the many glued pvc inflatables out there. There are those folks who either cannot afford an AIRE Tributary boat, or who feel they would rather not have a bladderized inflatable for whatever reason. We would point out that AIRE's technology (they use the same manufacturing process for both the Tributary imports and the U.S.-made AIRE line) is well proven, and that the Trib's remain far easier to roll/fold up than the Rocky Mountain equivalents. On the other hand, the Tributary's run quite a bit more than the R.M.R's. Making whitewater rafting affordable gets more people on the river.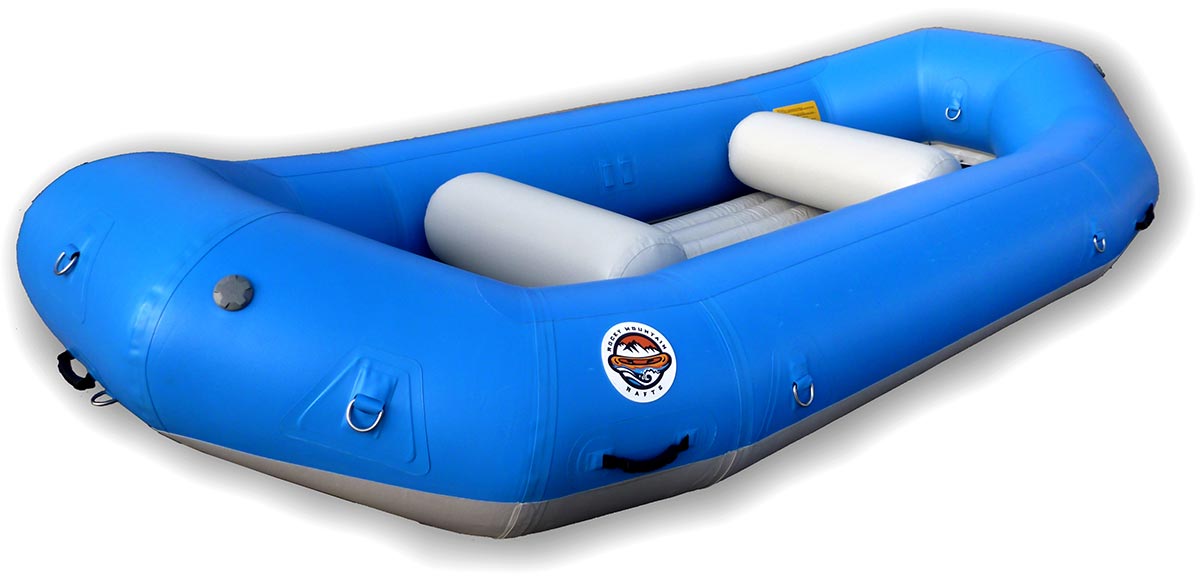 RMR Whitewater Rafts Components
Rocky Mountain Rafts RMR 12 SB Whitewater Raft have ten stainless D-rings, and if you need more we usually stock plenty. Two removable thwarts and four lift handles are standard. The base fabric inside the 33 ounce pvc is a very strong 2000 denier polyester, and wrap-up layers on the underside of each raft toughen them up even more – though as mentioned at the end of the first paragraph those extra layers also make any raft that has them a bear to roll up. RMR uses the low profile Leafield C-7 valves throughout. The C-7 is a bit slower than the B-7 especially during deflation, but the problem with the B-7 is that it's high profile cap seems to bash paddle crew knuckles no matter where they are located.
One of the most surprising features of the self bailing RMR boats is that they have lace-in floors, not permanently mounted ones. Should something happen to your floor, your can unlace it if you have the time, and UPS it to RMR instead of trying to ship the whole boat on a truck line. Laced floors cost far more to produce, but they have the benefit of draining a raft quicker than glued ones can. It is quite unusual to find a laced floor on whitewater rafts of this low price.
RMR Rocky Mountain Whitewater Rafts WARRANTY
Warranties on all RMR boats are five years. The standard colors are blue and red with ash grey interiors. The wrap-up floor overlaps & frame chafers are glued even on the Rocky Mountain boats, so there will come a day if you keep the boat long enough where those will come loose. Hopefully this won't happen for ten to fifteen years. Just remember you are getting a killer deal on this brand. If that low price comes with the prospect of re-gluing a few items down the road, that's the compromise.
If you want to know the lead time on your Rocky Mountain Rafts RMR 12 SB Whitewater Raft, email us your zip code and we'll give you a close idea. The worst case should be five business days.
The 12′ RMR has 18.5″ tubes and is 6'1″ wide and weighs 119 pounds with both thwarts. All Rocky Mountain rafts have four main chambers, plus the two thwarts & floor. This boat will be delivered by UPS ground. Due to the fact that any bulge in the boxed size of this whitewater raft causes the girth to exceed UPS's normal maximum of 130″, an oversize fee of $56 may apply on top of the basic rate.
We are an Authorized RMR Rocky Mountain Rafts Whitewater Rafts Dealer and we provide product support for goods we sell. AIRE, Tributary Rafts, Innova, Rocky Mountain Rafts, MTI, Cannon Paddles, Ortlieb, Northwest River Supply…