Rocky Mountain Rafts RMR 14 SB Whitewater raft. Hands down the best deal in a fourteen footer. Please phone in your order; this raft cannot go by UPS, but UPS rates are the only method our shopping cart calculates. Call us at 925-820-BOAT to place your order. Now RMR 14 SB Free Shipping for Commercial (non-residential) destinations. Can also be picked up at the shipper's nearest hub in the lower 48.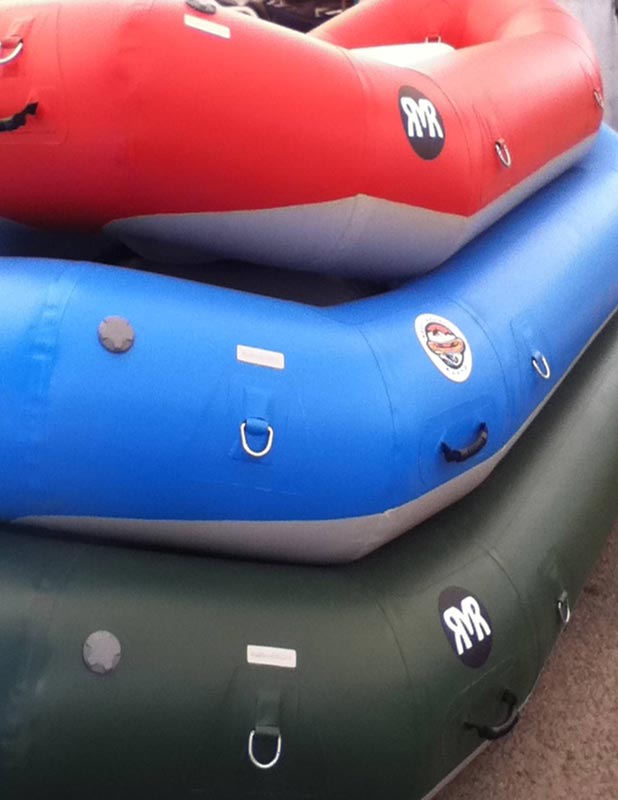 This Rocky Mountain Rafts RMR 14 SB Whitewater Raft is one of the very best values out there on fourteen foot raft. Please phone in your order; this raft cannot go by UPS, but UPS rates are the only method our shopping cart calculates. Call us at 925-820-BOAT to place your order.
Rocky Mountain Rafts RMR 14 SB Whitewater Raft – Outfitter Worthy Quality and Strength!
The Rocky folks made some small but very worthwhile improvements to both the floor design and to their thwarts this Spring.
The pin system that holds each thwart in place was improved over the winter, but additionally the thwarts are now fully beveled on the ends. This integrates them better to the main hull and when passengers sit on them, and it spreads the load to the thwart ends rather than just to the attachment points.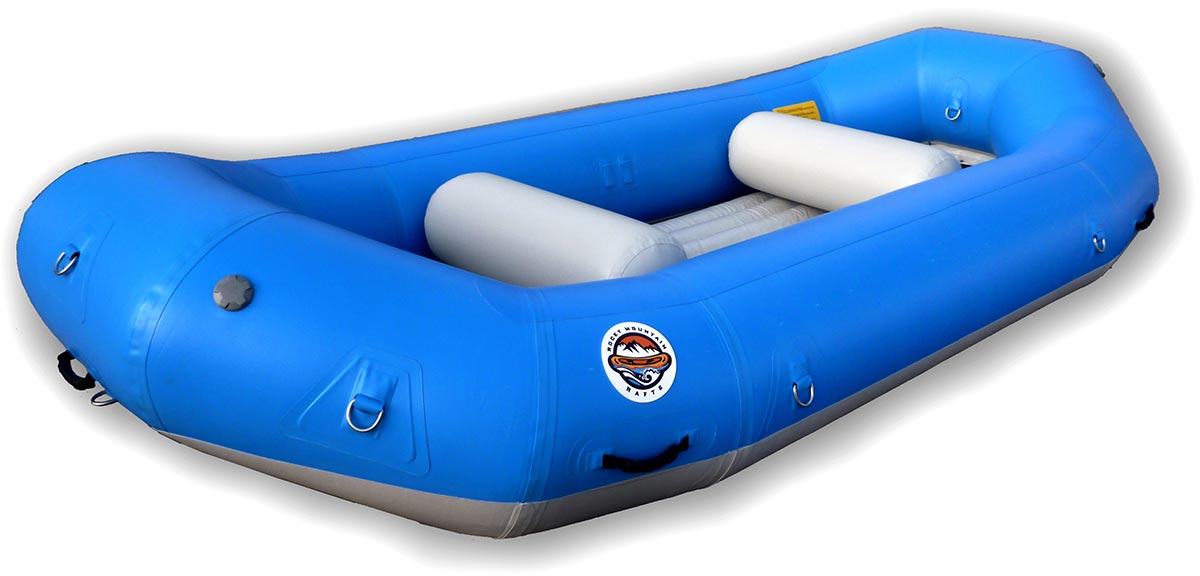 More importantly, the floor design was improved last year and has changed again this year. A while back we had suggested RMR take a look at what Incept in New Zealand has been doing for decades, namely tapering the floor I-beams near the bow & stern, and using shorter I-beams for the ones nearest the left & right edges. This is of course takes more time, and can be somewhat confusing for those employees who assemble the floors. But the result is a floor with smoother edges all around, and the results are felt for sure – our experience with Incept boats both rowed bearing heavy loads and paddled with lighter loads bears this out.
From the sides, decreasing the floor edge protrusion allows current to slide under the boat, and the raft to react less to both swift downstream water and to powerful eddies. At the bow and stern, it simply makes for a faster raft since the underside is less bumpy. For the end user, these small changes absolutely mean a better handling boat.
A couple other things to mention are that Rocky Mountain will be migrating to the new Leafield D-7 valvs by 2016, and the actual thickness of the floor near the center of the 12', 13', 14', and 16' rafts has increased. This last detail is important to understand if your drybox or cooler protrudes down much more than 10" below the frame bars. In some cases this is certainly adjustable if you use standard camlock straps, but if your cooler has a taper on the two long sides and tends to drop between fixed position bars until it stops, that may mean you are more like 12" below the frame bars.
The total depth of any raft will increase as the side tubes get bigger. On the 16' RMR, you are looking at maybe 12.5", on the 14' about 10 to 11", on the 13' maybe 9.5", and on the Rocky 12' as little as 9". If you have an existing frame and/or cooler and drybox, measure first to avoid problems.
Construction Method for Rocky Mountain Rafts RMR 14 SB Whitewater Raft
Rocky Mountain rafts (a.k.a. RMR), catarafts, and inflatable kayaks are still relatively new but they have come a long way in a short time. The feedback has been terrific and this company strives to make improvements both large and small every season. There are many imported pvc brands on the market, but with the exception of AIRE's Tributary line most have traditionally been glued rather than welded, and glue leads to eventual seam failures. Even if the better glued brands hold up for ten to fifteen years, there will still come a day when you have to put a large quantity of pvc in a landfill. Rocky Mountain boats have welded tube seams, floor I-beams, floor edges, D-rings, and bulkheads. In addition to the main overlaps, RMR also welds seam tape over both the interior and exterior side of each tube joint. This double taping is something that some pvc boat manufacturers don't bother with, yet a lack of seam tape often means their inflatables have air retention that is less than stellar, especially as they age. Not so with RMR – the extra step of adding seam tape to the interior prevents air wicking along the exterior edges, and the outside seam tape makes it even more reliable.
Individual pieces of the Rocky Mountain boats are not scissored out one at a time with hand-traced cookie cutter patterns the way some boat makers still do it. Instead they are cut en masse with computer controlled machines like the AIRE's and Tributary's. By foregoing much of the usual hand labor the cost to produce each raft or cat tube goes down. We are glad to see someone has taken the reigns to provide an extremely economical alternative to the many glued pvc inflatables out there.
Rocky Mountain Rafts RMR 14 SB Whitewater Raft Hardware and Fabric
Most sizes of the RM rafts have ten stainless D-rings outside (& two more facing inward at the bow and stern), and six of these D-ring patches also have lift handles. Two removable thwarts and are standard and if you want a third one they are available. The base fabric inside the 33 ounce pvc is a very strong 2000 denier polyester, and wrap-up layers on the underside of each raft toughen them up even more – though those extra layers also make any raft that has them a bear to roll up. Another important detail about boats from the Rocky Mountain factory is that they not only produce them from the ground up, they also make the material they are built with. This gives a far higher degree of quality assurance than you can get from Asian boat makers who have to buy pvc or rubber from an outside source.
Laced in Floors and RMR Warranty
A surprising feature of the RMR boats is that all sizes 12' and up have lace-in floors, not permanently mounted ones. Should something happen to your floor, your can remove it & UPS it to RMR instead of trying to ship the whole boat on a truck line. Laced floors cost far more to produce, but they have the benefit of draining a raft quicker than glued ones can. It is quite unusual to find a laced floor on a raft of this low price.
Warranties on all RMR boats are five years. If you want to check lead times on an RMR, email us your zip code and we'll give you a close idea. The worst case should be five to seven business days.
Rocky Mountain Rafts RMR 14 SB Whitewater Raft Specs and Delivery Details
The 14′ self bailing RM raft is a generous 6'10" wide with the thwarts inflated, and it has 20″ side tubes. All Rocky Mountain rafts 12' and up have four main chambers, plus the thwarts & floor. The 14′ RMR weighs 159 pounds with two thwarts. They don't weigh much but removing them shaves off about 8 pounds. We know this is a heavy fourteen footer, but all that extra reinforcing material comes at a price.
* The RMR Rafts have Free Shipping for Commercial (non-residential) destinations in the lower 48. They can also be picked up at the shipper's nearest terminal.
Note that this raft has to be shipped via motor freight, not UPS, and having it sent to a residential address can get very expensive. Commercial addresses are always preferred whenever possible, especially since the driver will not leave the raft at your house if you are not home. And they will charge a steep re-delivery fee if this does occur.