RMR Storm 105 SB
A new smaller size, 10′ 6″, from Rocky Mountain rafts is available for 2014. The self bailing Rocky Mountain Rafts RMR 105 SB Storm Whitewater Raft has three main air chambers and two removable thwarts. Leafield valves, including the pressure relief valve on the floor, are used throughout. Along with the newer Maxxon mini nine foot R2 model, this is one of the most affordable "personal size" models on the market. And though small, it is built from very beefy 2000 denier pvc, making it strong enough for commercial use and probably overkill for most private boaters.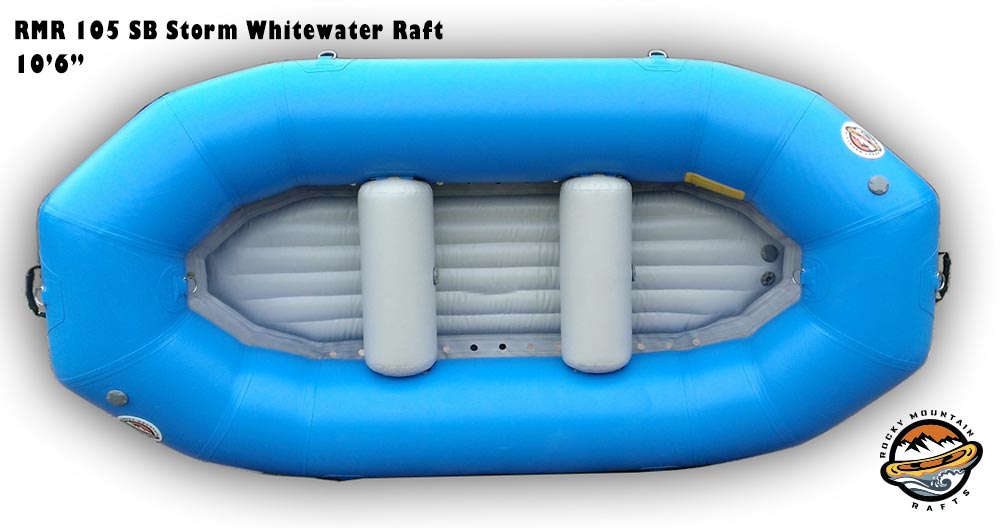 The Storm can be paddled with two to four adults, though three is probably ideal. If you wish to row with a frame, one or both thwarts can be quickly removed. There are no frame chafer strips on top but it is fairly easy to wrap the frame side bars with pipe insulation to prevent marking, should you wish.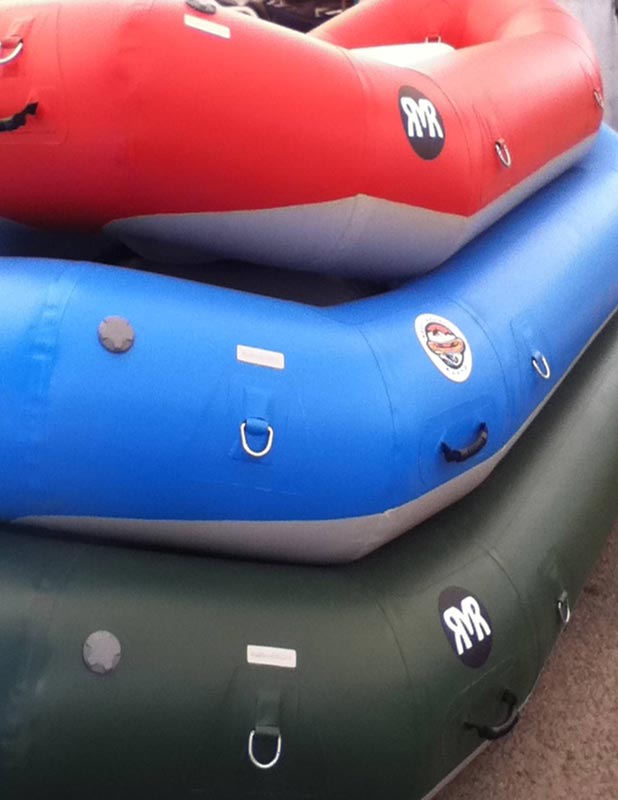 Like all Rocky's, the Storm is fully welded including the D-rings. There are two D's on each side (plus one at the bow & stern) and more can be added if you need them for a frame. the color choice is solid light gray, or blue with a gray interior.
The price on this little raft is low enough that many boaters can afford to add it to their collection without breaking the bank. In our personal experience over the last 33 years, when various friends with 13′ and 14′ rafts pick up a smaller boat, they end up using it far more than their full size raft. And if you already have all the life jackets, paddles, and pumps for your large boat, that only leaves the raft to purchase.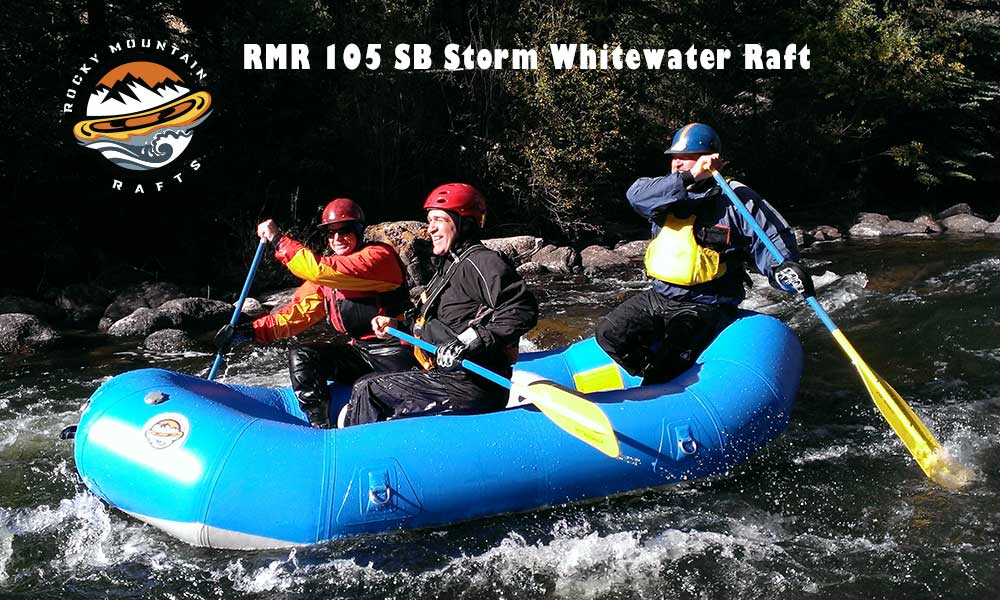 Specifications for Rocky Mountain Rafts RMR 105 SB Storm Whitewater Raft
Raft Model – 105 SB Storm
Length – 10.5′
Width – 5'2″
Tube Diameter – 18″
Number of Chambers * Thwarts * Floor – 3 * 2 * 1
Number of D-Rings – 6 Stainless Steel
Lift Handles – 2 Rubberized Handles
Removable RTA™ System (Rapid Thwart Attachment), simple lace-free design
Material Weight in ounces per square yard – 44/66
Valves – Leafield C-7
Colors – (Blue with Light Gray floor) or Light Gray
Construction – Welded I-beams, baffles and seams, triple-fused with welded seam tape inside and out (eliminates the need for glue… and its problems). The best seam technology in the industry–durable, consistent, reliable.
Warranty – 5-year retail warranty on workmanship and materials. 3-year Commercial warranty