Rocky Mountain Rafts RMR 16 SB Whitewater Raft (a.k.a. RMR) are relatively new to the rafting industry. Although there are many imported pvc brands on the market, with the exception of AIRE's Tributary line most have traditionally been glued rather than welded, and glue leads to eventual seam failures. Even if the better glued brands hold up for ten to fifteen years, there will still come a day when you have to put a large quantity of pvc in a landfill.
Now RMR 16 SB Free Shipping for Commercial (non-residential) destinations. Can also be picked up at the shipper's nearest hub in the lower 48.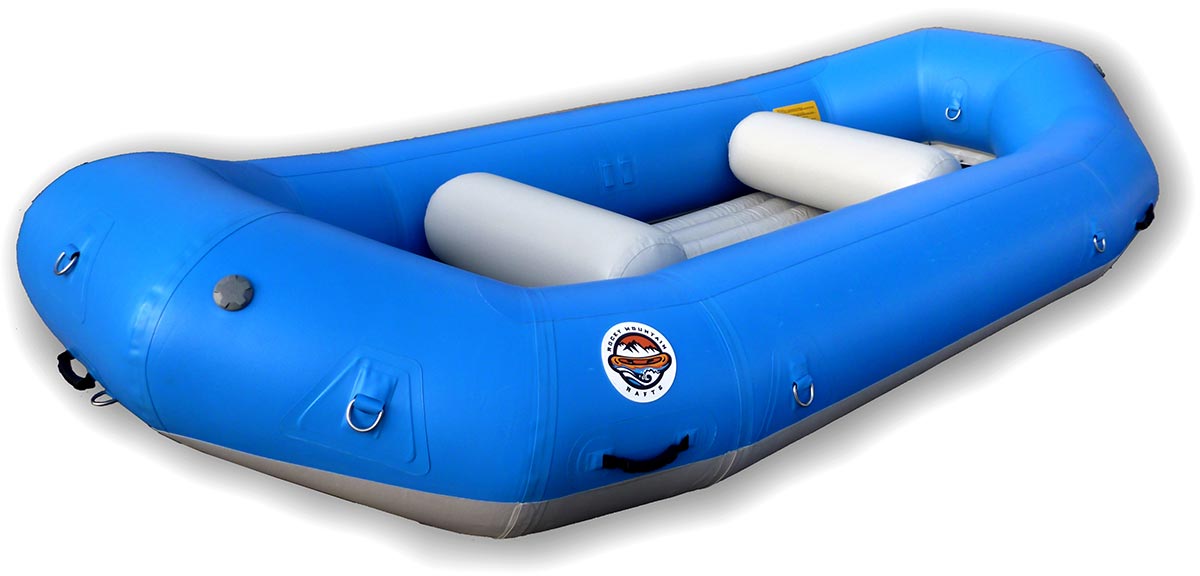 Rocky Mountain Rafts RMR 16 SB Whitewater Raft now become the second brand with welded seams, floor I-beams, and bulkheads. The D-rings are also welded now. In addition to the main seam overlaps, RMR also welds seam tape over both the interior and exterior side of each tube joint. This is something that a few pvc boat manufacturers don't seem to bother with, yet the lack of seam tape quite often means their inflatables have air retention that is less than stellar, especially as those boats age. Not so with RMR – the extra step of adding seam tape to the interior overlaps prevents air wicking along the exterior edges, and the outside seam tape makes it even more reliable.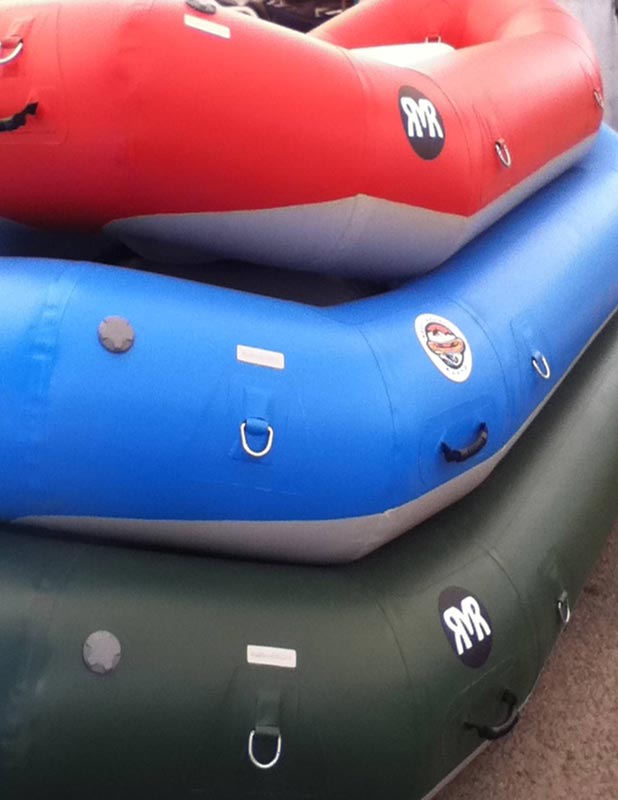 Manufacturing Process for Rocky Mountain Rafts RMR 16 SB Whitewater Raft
Individual pieces of the Rocky Mountain boats are not cut out one at a time with hand-traced cookie cutter patterns and scissors. Instead they are sliced out en masse with computer controlled band cutters like the AIRE's and Tributary's, and by foregoing much of the usual hand labor the cost to produce each raft or cat tube goes down. Years back we thought we had found our own source in Seoul, South Korea to procure welded pvc boats from. Unfortunately that company, known as Aquastar, disappeared into the wind with a couple sample boats we had provided. So we are glad to see someone else has taken the reigns to provide an extremely economical alternative to the many glued pvc inflatables out there. There are those folks who either cannot afford an AIRE Tributary boat, or who feel they would rather not have a bladderized inflatable for whatever reason. We would point out that AIRE's technology (they use the same manufacturing process for both the Tributary imports and the U.S.-made AIRE line) is well proven, and that the Trib's remain far easier to roll/fold up than the Rocky Mountain equivalents. On the other hand, the Tributary's run 23 to 30% above the cost of the R.M.R's. Making boating affordable gets more people on the river.
Most sizes of the RM rafts have twelve stainless D-rings, and if you need more we usually stock plenty. Six of the twelve D-rings also have lift handles incorporated into them. Frame chafers cover most of the tube top. Two removable thwarts are standard and if you want a third thwart, they run a very reasonable $125 or so. The base fabric inside the 33 ounce pvc is a very strong 2000 denier polyester, and wrap-up layers on the underside of each raft toughen them up even more – though as mentioned at the end of the first paragraph those extra layers also make any raft that has them a bear to roll up.
Rocky Mountain Rafts RMR 16 SB Whitewater Raft uses the low profile Leafield C-7 valves throughout. The C-7 is a bit slower than the B-7 especially during deflation, but the problem with the B-7 is that it's high profile cap seems to bash paddle crew knuckles no matter where they are located. Such is the case with the 13′ and 14′ Tributary rafts.
One of the most surprising features of the self bailing RMR boats is that they have lace-in floors, not permanently mounted ones. Should something happen to your floor, your can unlace it if you have the time, and UPS it to RMR instead of trying to ship the whole boat on a truck line. Laced floors cost far more to produce, but they have the benefit of draining a raft quicker than glued ones can. It is quite unusual to find a laced floor on a raft of this low price.
Rocky Mountain Rafts RMR 16 SB Whitewater Raft Warranty
Warranties on all RMR boats are five years. The standard colors are blue or red, with light gray floor tops & thwarts. The wrap-up floor overlaps and frame chafers are glued even on the Rocky Mountain boats, so there will come a day if you keep the boat long enough where those will come loose. Hopefully this won't happen for ten to fifteen years, but it's a bit tricky to predict. Does the five year warranty cover frame chafers if they come loose? So far RMR has taken care of any glue issues, but even so remember that you are getting a killer deal on this brand. If that low price comes with the prospect of a non essential item possibly peeling a bit, the RMR's are still a terrific value. Other websites don't mention some of these details but we try to keep our clients happy, and fully informed regarding their prospective purchase.
RMR's 16′ self bailing raft is 7'2″ wide with big 22″ main tubes. All Rocky Mountain rafts have four main chambers, plus the two thwarts & floor. Raft interiors will be grey. Weight is about 170 pounds. This size ships via motor freight. We strongly prefer to have these sent to business addresses whenever possible to ensure the lowest shipping costs for you, and to make sure someone is there to sign for the raft when it arrives. Truck drivers won't leave parcels at your house if you are gone, so please keep this in mind. Many of them will also hit you up for a re-delivery fee (roughly $85) if they do have to come back a second time. Delivery time should be no more than eight business days.